Discussion Starter
•
#1
•
Ok, here's my dilemma, I have two options I can go with my new(er) Ram:
Option 1:
This is my old set up that is actually just chilling in my garage.
Ground force 2/3 drop (will be converted to 2/4 if I re-install)
Custom sway bar end links
24" BOSS 330's - Black face with a polished lip.
This is what the truck looked like with this set-up: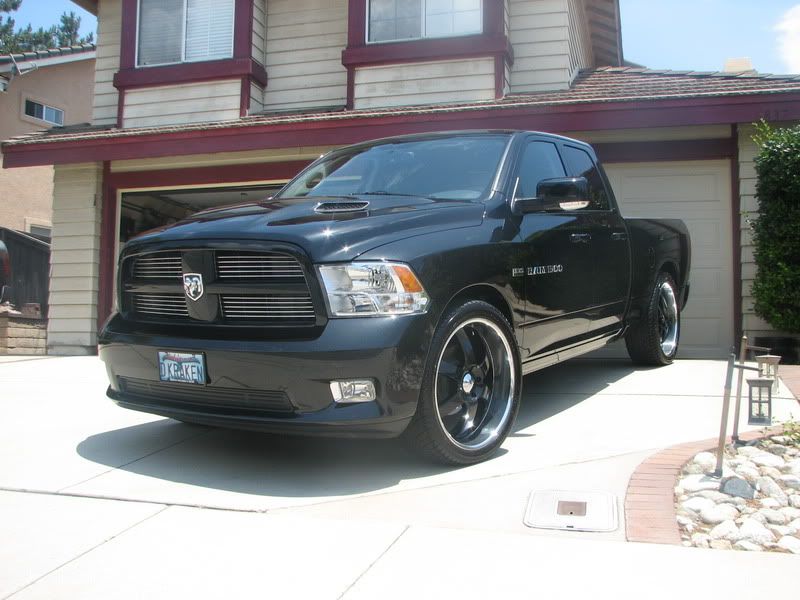 Option 2:
ICON is using the truck to develop a 3" suspension lift for the 2WD's. This set-up would consist of:
ICON UCA's
ICON 3" front lift coils
ICON 1.5" rear lift coils
ICON 2.0 smooth body shocks front and rear
Method Standards (black)
35/12.50R17 Toyo M/T's
Now, keep in mind this is my daily driver, but I am planning on either going Long Travel or full blown tremec 6 speed conversion/6.4L Hemi swap once it is paid off in 5 years. But I want a decent suspension for my daily travels. I know for a fact that the lifted setup will ride better, but cost me in gas, while the lowered setup did handle amazing and improved my mpg's by 1 over stock.
My thing is, I know it sounds lame, but I want that "OH DAMN!" look again. I know I will have it with the dropped setup, once I convert the drop to 2/4 and throw a cat back on, but I'm not sure if I will be able to get it out of the lifted setup with it only being a 3" lift on 35's. Might just blend in...
What to do, what to do........?