Discussion Starter
·
#1
·
I love my Shaker hood. I think it looks awesome. I was going for a certain look and the Shaker is key to pulling that off. I just never liked the functionality of the set up. The way it is suppose to work is, air enters the shaker and then is ducted over to the hood where it is ducted once again over to where the air cleaner is. I thought it would be pretty trick if I could go straight from the shaker to the throttle body.
Also, I decided a while ago that I really wanted to make an effort to see the passenger side of the engine. The first to go was the fan shroud and tanks. Next in line was the intake. At no point did I ever have a clue of what I was doing. I used fiberglass once before in my life and learned one thing; I'm no good at figerglassing. Whatever, I needed something to occupy my time.
Here is what I stared with.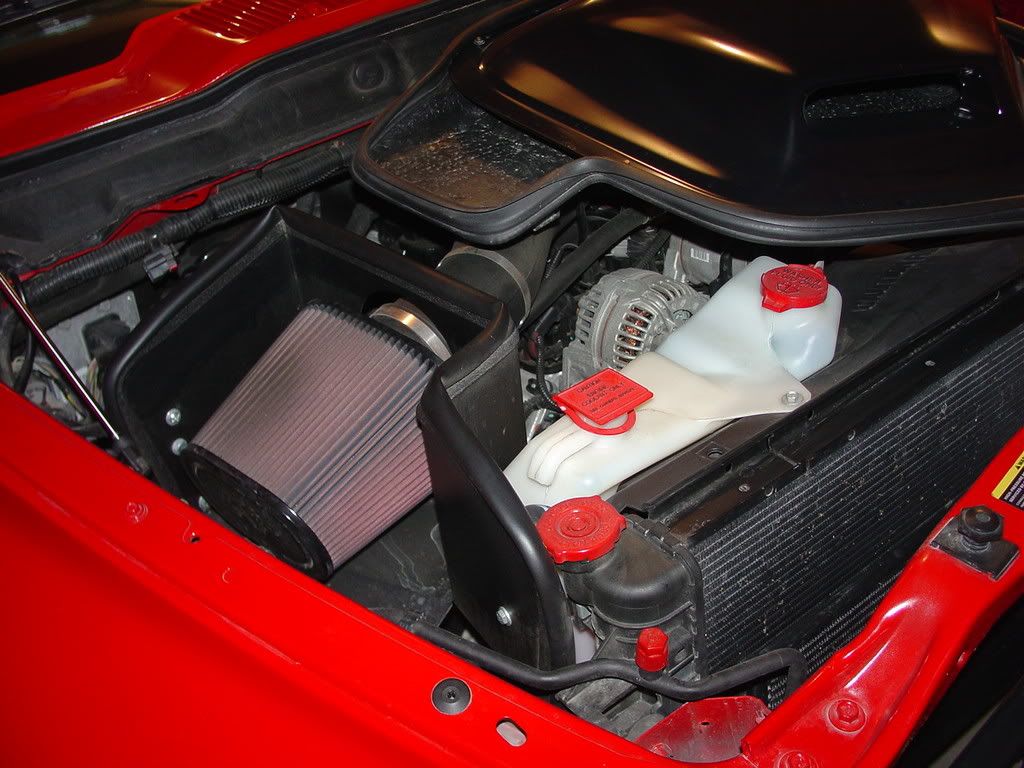 This is what it looked like after going shroudless.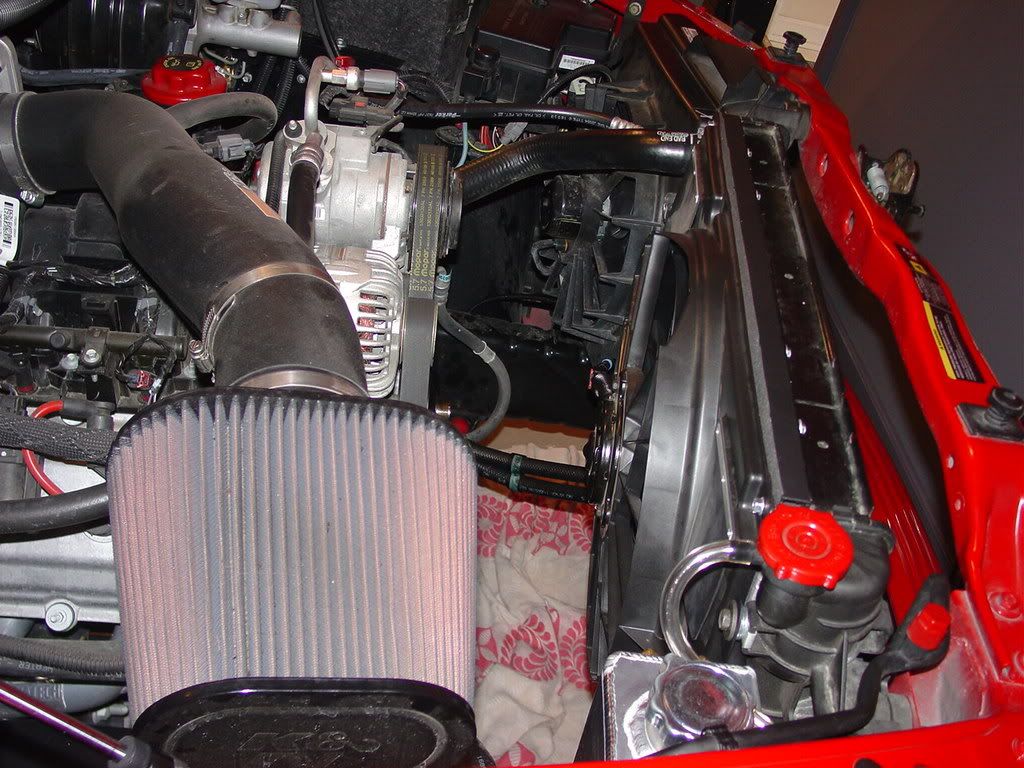 Here is the shaker scoop off the truck and what I had to work with.
So my plan was to make a new bottom piece that held a filter and I didn't want to use the original because I still wanted to drive the truck with the shaker on and if my project didn't turn out right I didn't want to be screwed. Here is what I did. I took the shaker apart so I could use the bottom piece.
Then I used clay to close off the ducting. This would eliminate the ducting for my mold.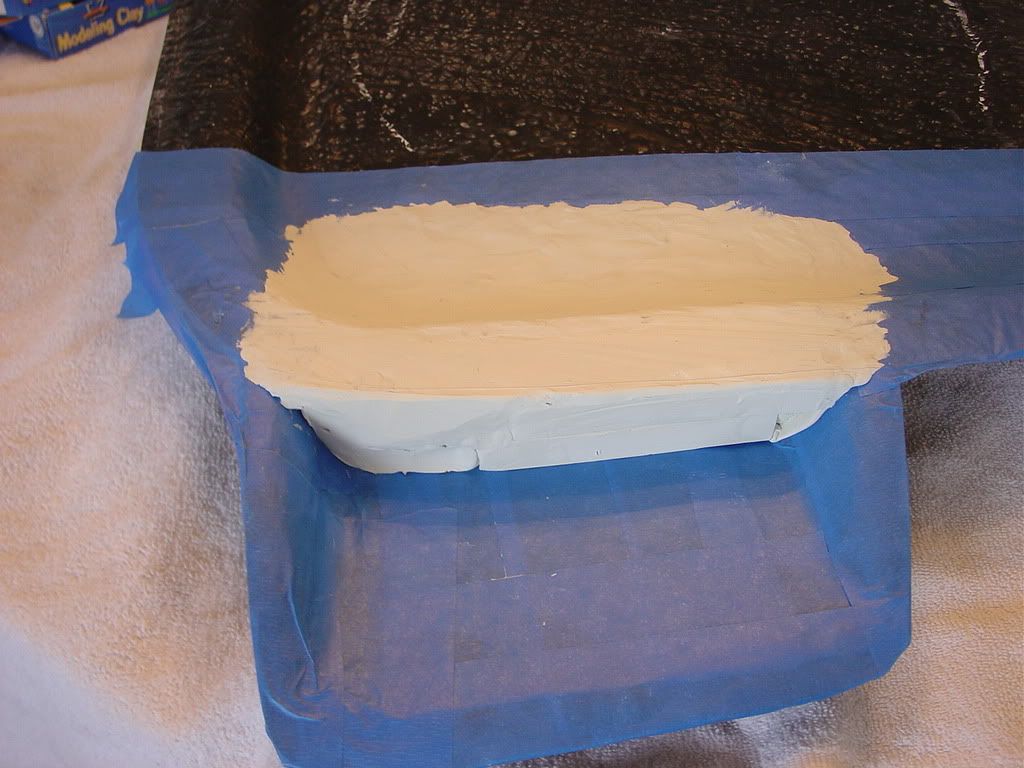 I taped everything off and had a pretty good start on the makings of something.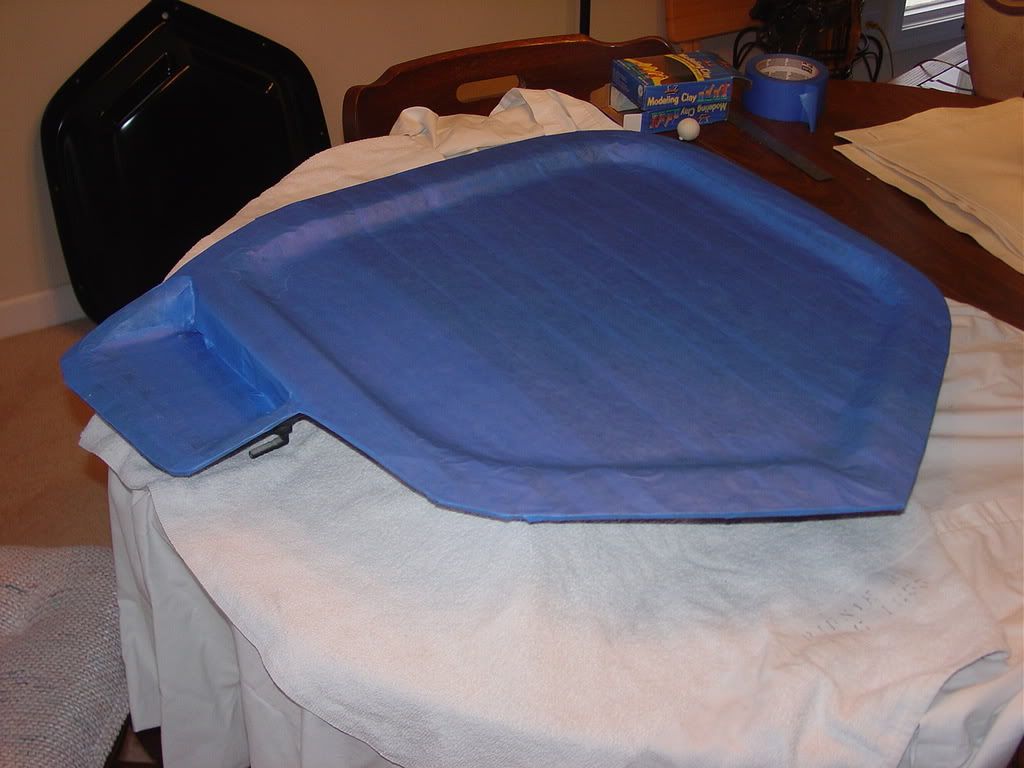 Then I laid some fiberglass. This took two attempts. The first one was coming out great until I decided to add a heavy layer for reinforcement. Yeah… I warped the crap of it. The second one didn't get a heavy layer.
It was about this time I started collecting some filter parts and funnels.
After the fiberglass dried I pulled it off and cut it to size. Now I had a reverse molding of my future bottom piece.
I wanted the bottom to sit a little deeper so I added a ¼ inch of MDF to the mold and then a ring where I wanted the filter to sit. Not in this picture is the next ring I added as a gutter system for any water that may find its way in. Now would be a good time to mention that I drove the truck three times in full on downpours and there was almost no water to speak of every time I checked. That implies that air is not forced into the shaker openings at speed and I realized that a long time ago. But this new design will actually be sucking air in. Cool fresh air by the way. Anyway, I still included the gutter system because it was just another challenge.
Ok, I don't know what happened but I seemed to misplace the next series of pictures. I used the above mold and laid me some fiberglass. Then I separated the new piece from the mold which required me to destroy the mold. That's only because I didn't know what I was doing (still don't).
Here is the next picture I could find. This is the beginnings of my new bottom piece. This is after a few layers of fiberglass mat and a couple coats of fiberglass filler after digging out any air pockets.
A little while later and a lot of work I had sort of an idea of what I was after. Here is a couple pictures of a test fitting.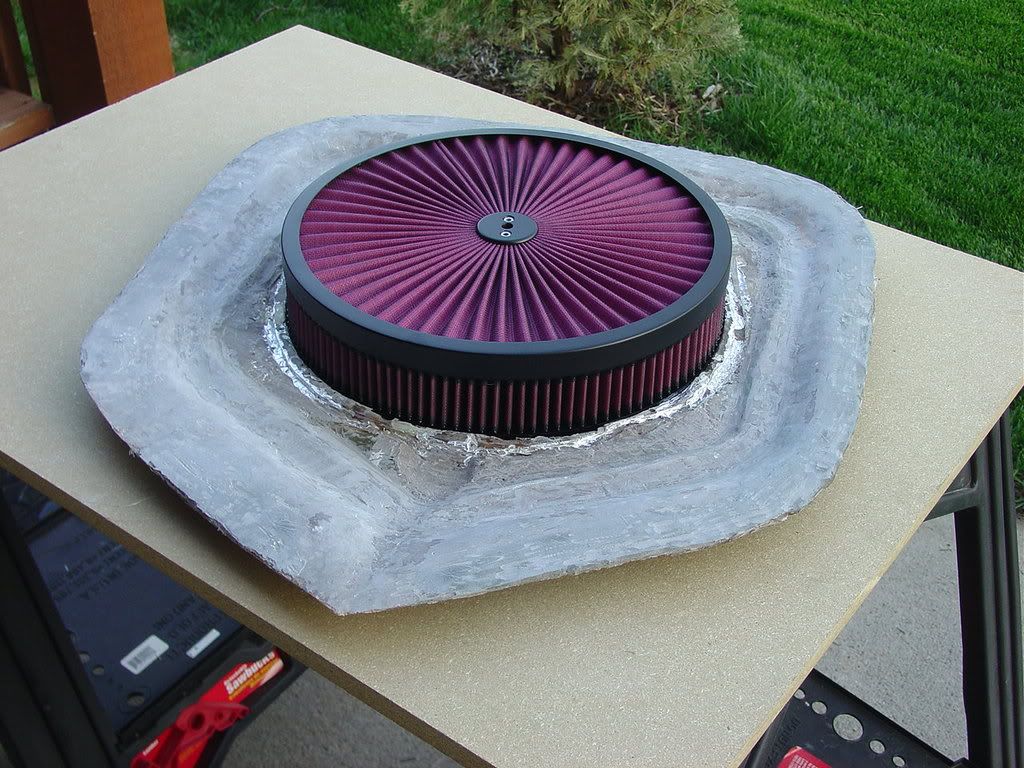 The next step was to figure out how I was going to get air out from under the filtered area. That meant the thing was going to take on a three dimensional shape so I make a stand to hold it.
I had a bunch of different ideas for a funnel system and tried to make a few different things work.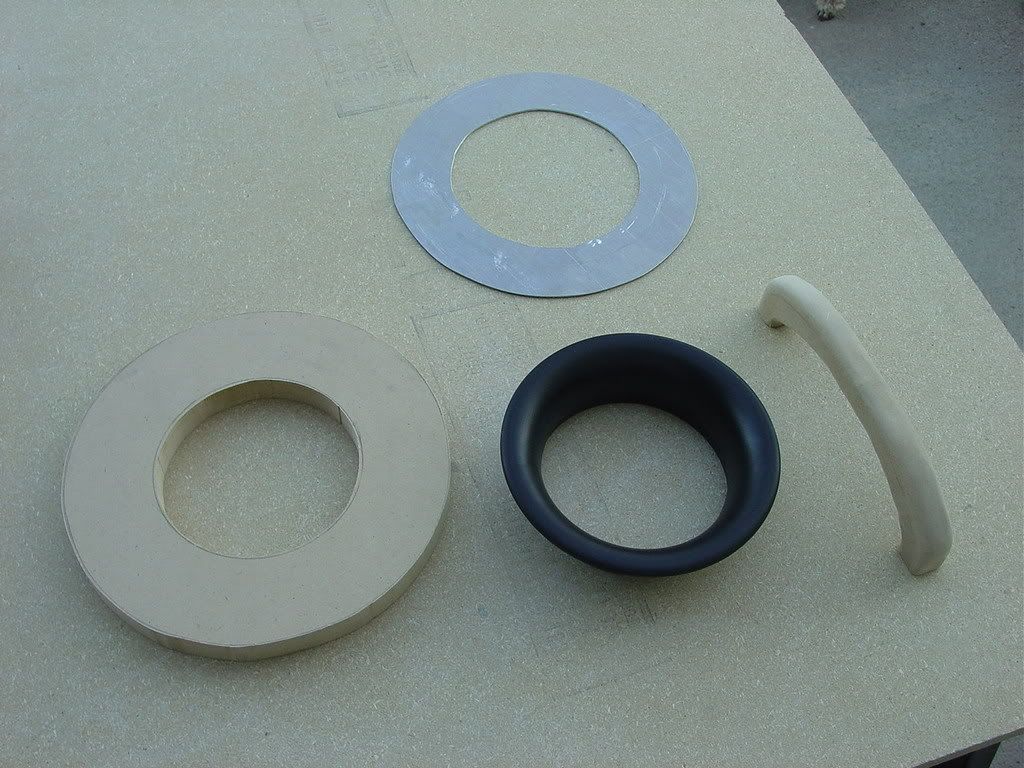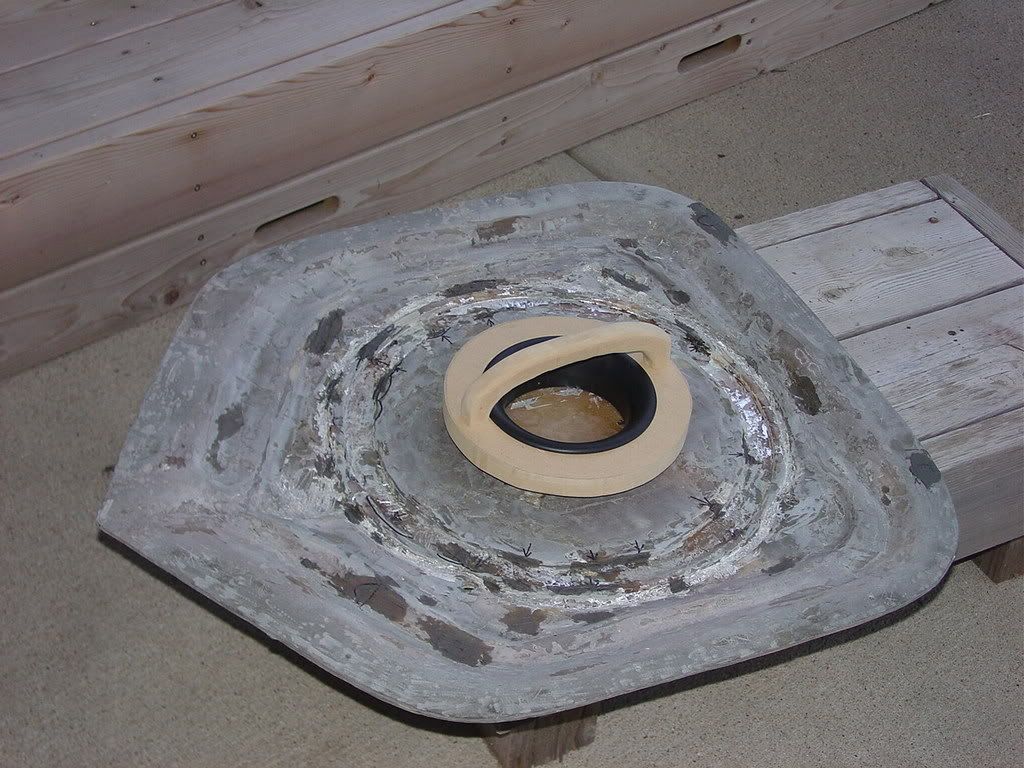 In the end I made this thingamajig. It's a four inch hole.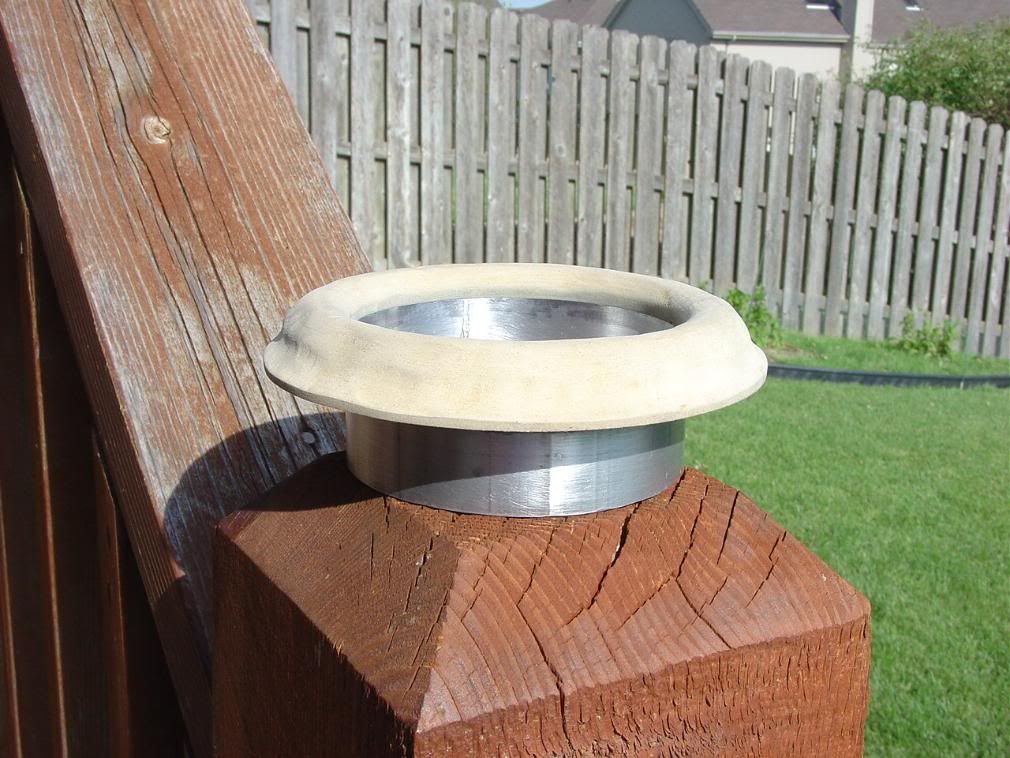 Here it is being molded into the bottom piece.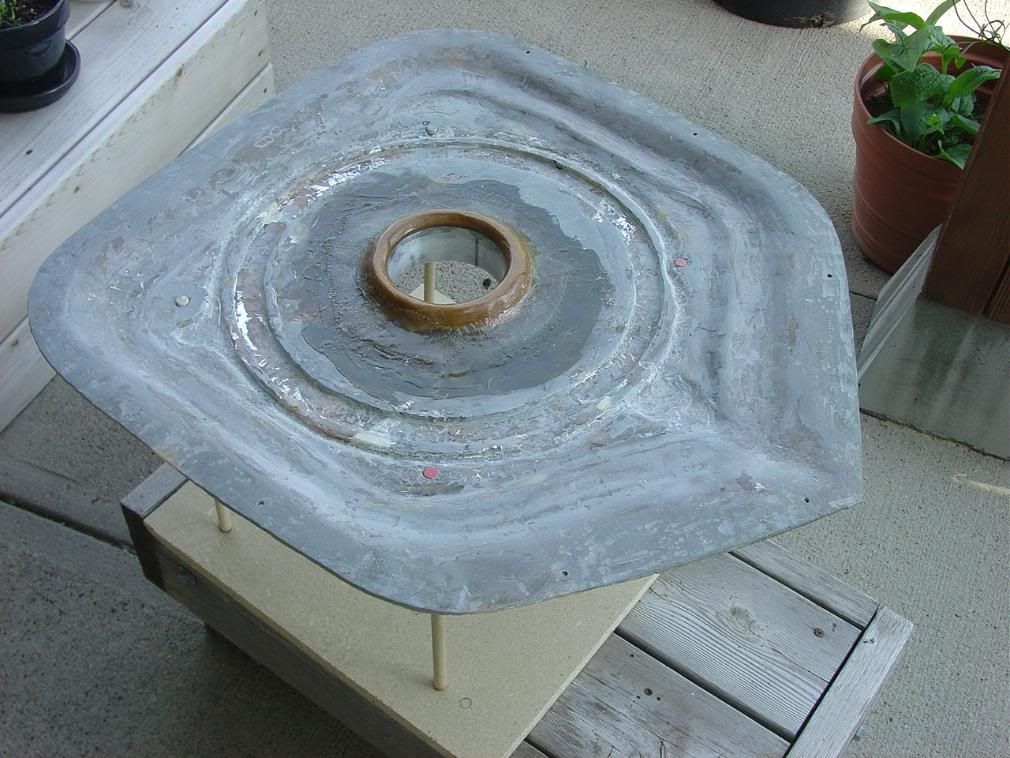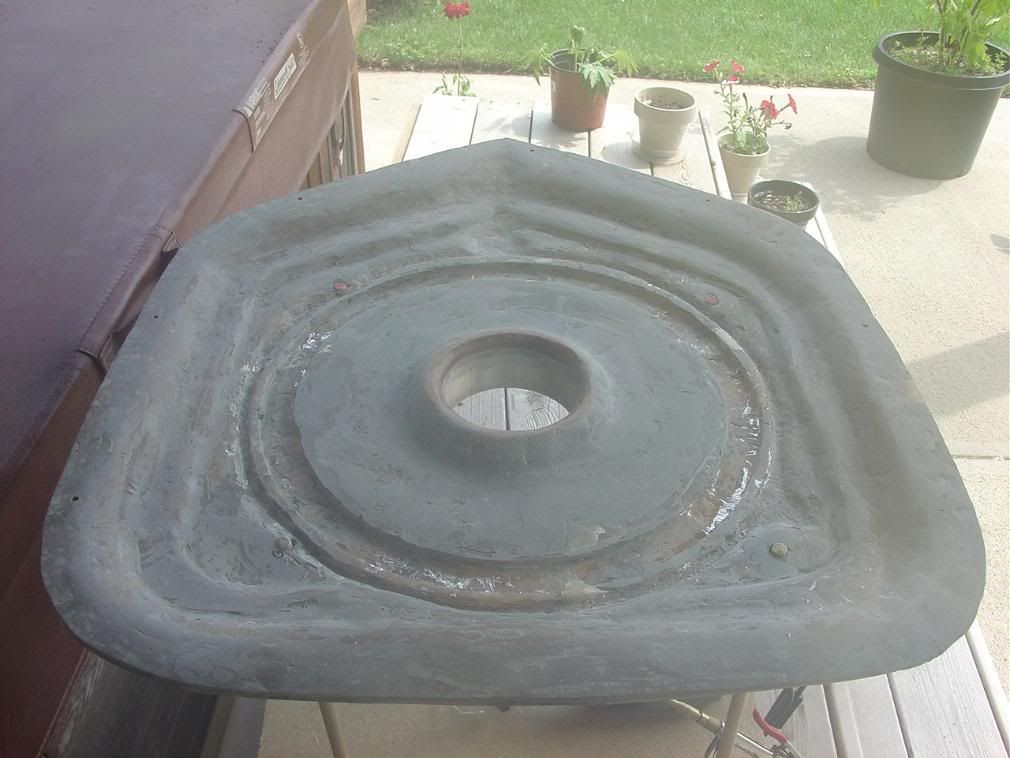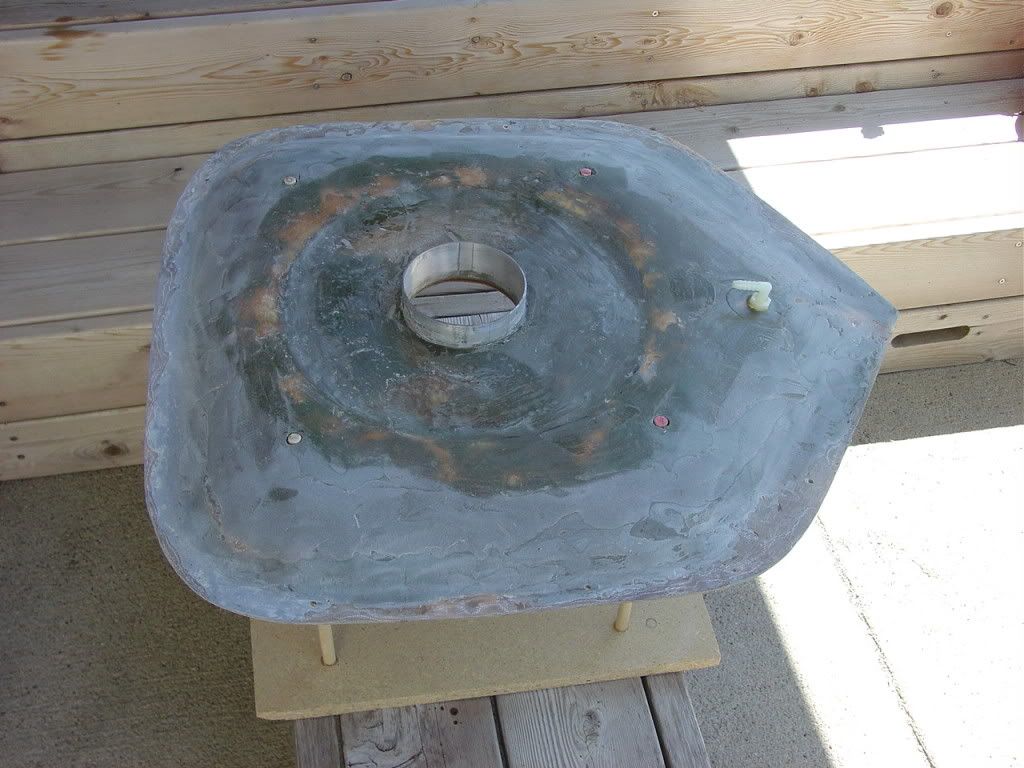 Next thing I needed to make was some way to hold the filter down. I made this little bridge looking thing that is held on by screws from underneath not to mention the glue, fiberglass paste and resin. The blue tape is covering the stud that the filter bolts down to.
After I was happy with the base I finally moved on to the body filler to smooth out the bottom to make it look nice and the top to make it flow nice.
Then I sealed, primered, and painted.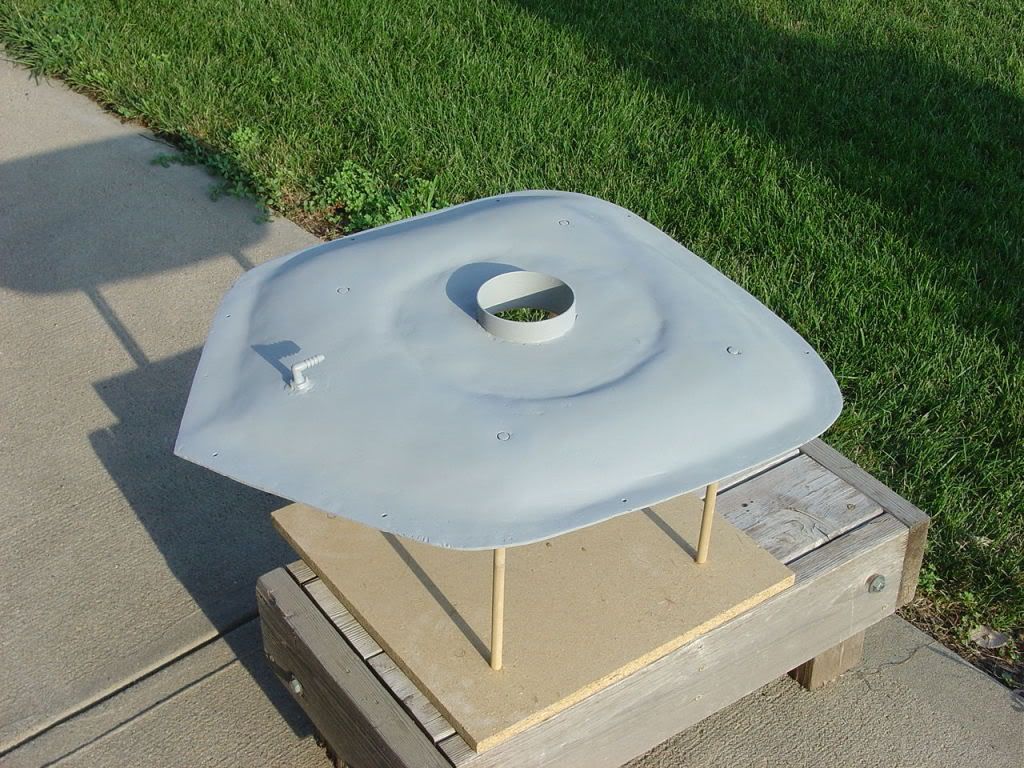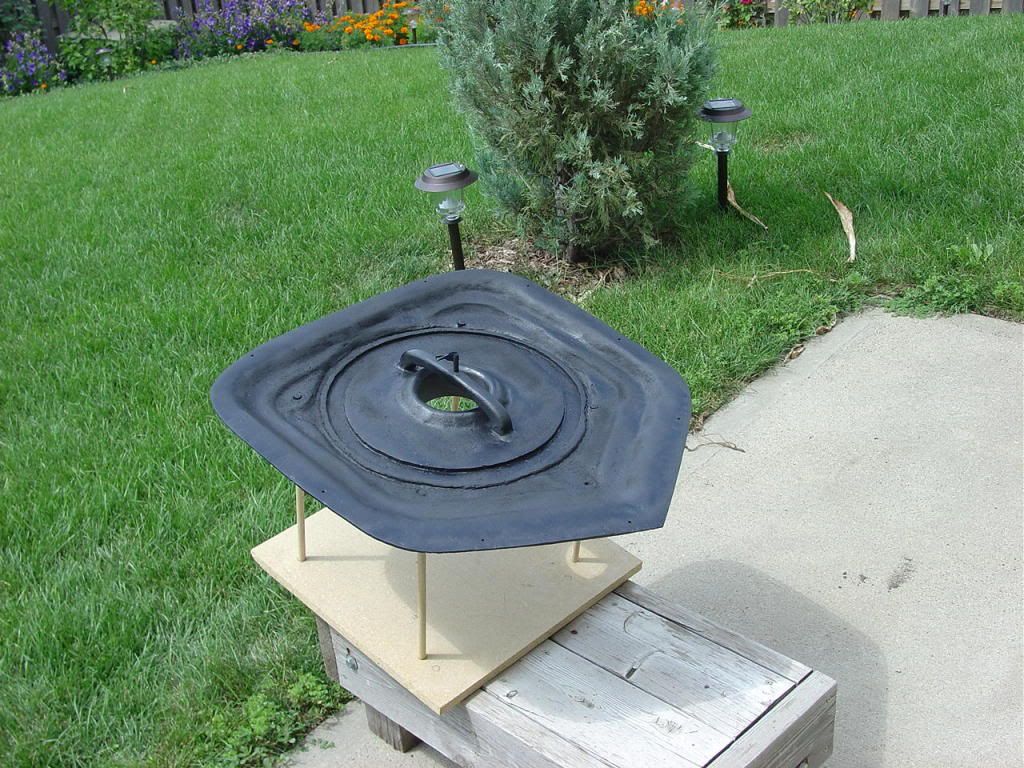 Here is the new bottom piece with filter installed on the truck.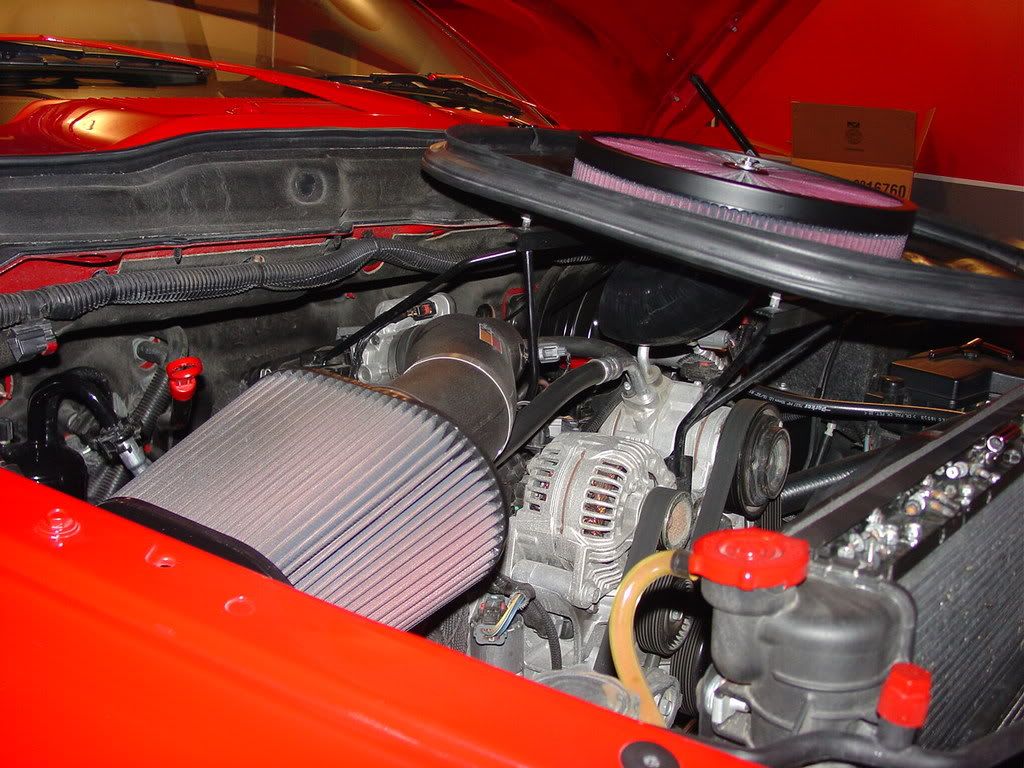 And the top piece on.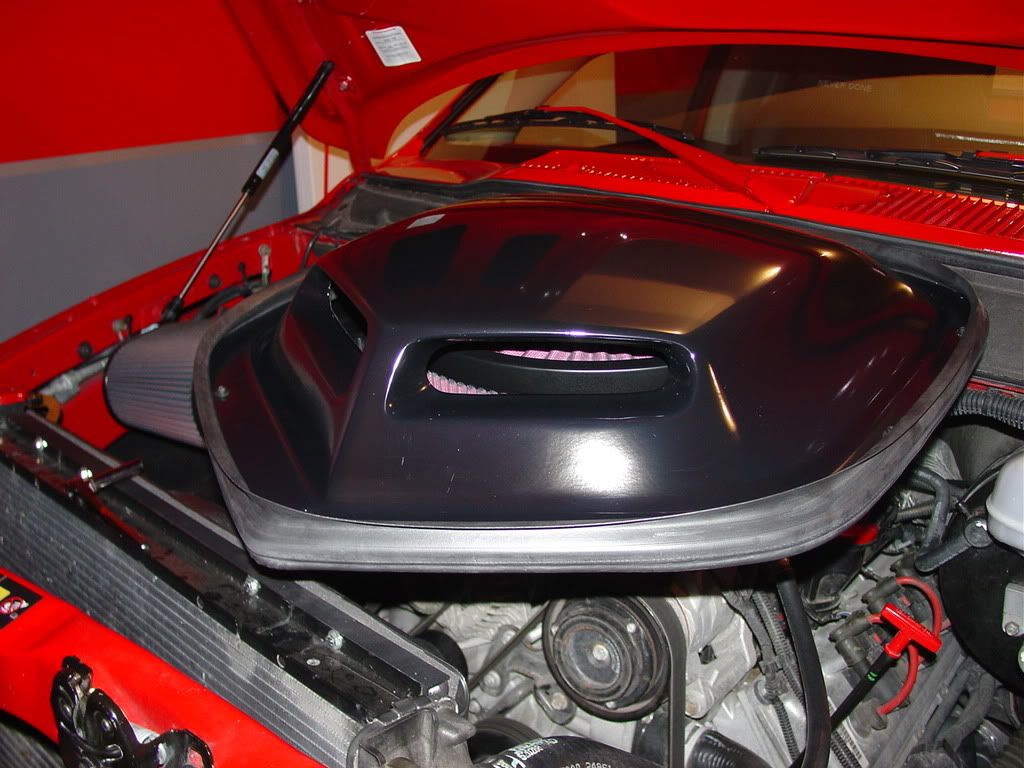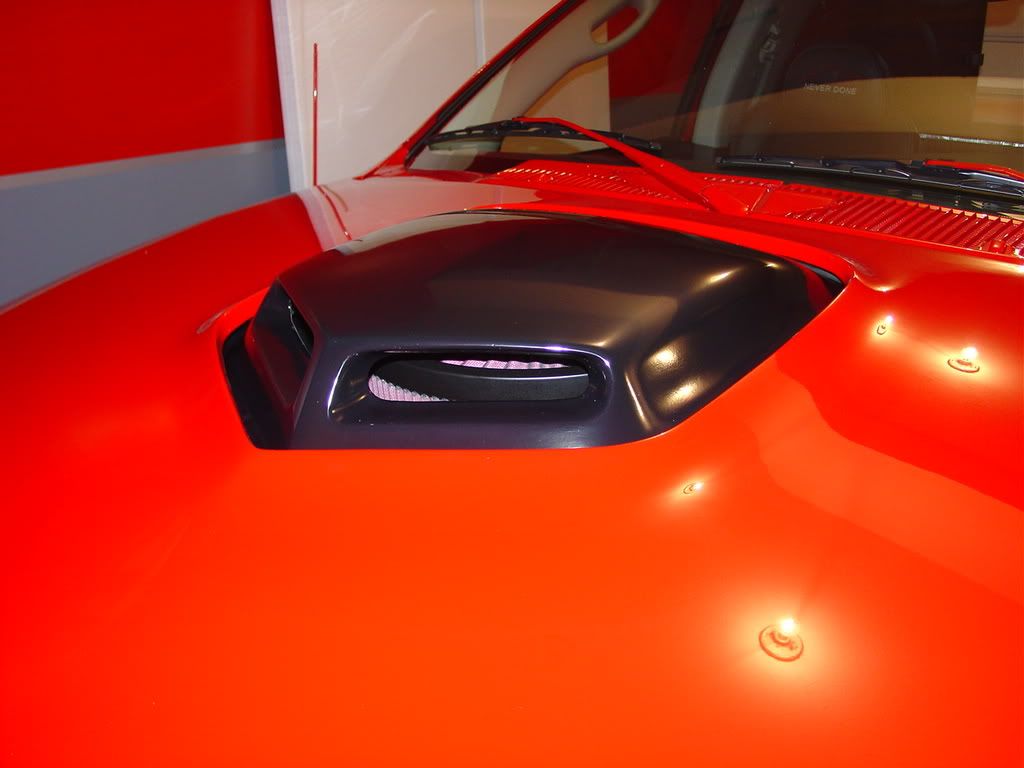 Seeing the filter is not near as easy as these pictures suggest. I had to adjust the light and camera angle in order to get the filter to be visible. But if you go looking for it you can definitely se it.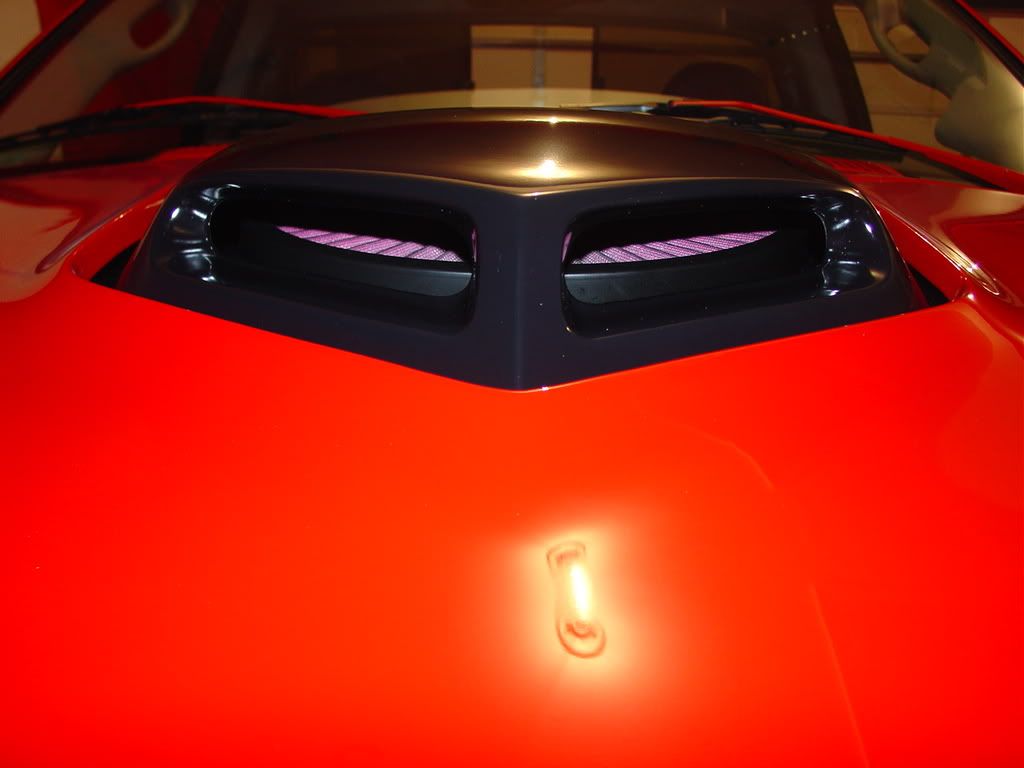 Now with the easy part done came the tricky intake pipe. Yeah, this would look to be easy but it kicked my… I bought some pipe and couplings.
The 4 inch to 3 ½ inch 90 degree reducer is what made this doable for me.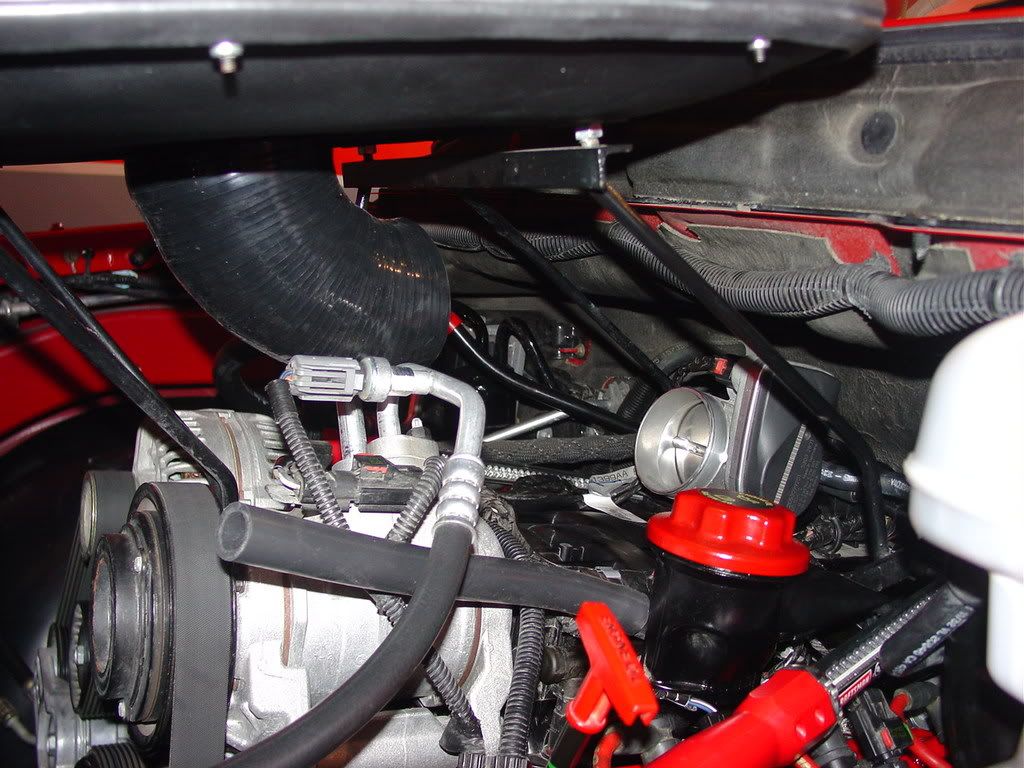 I would like to make a single piece with no couplings in the future but this will have to do for now.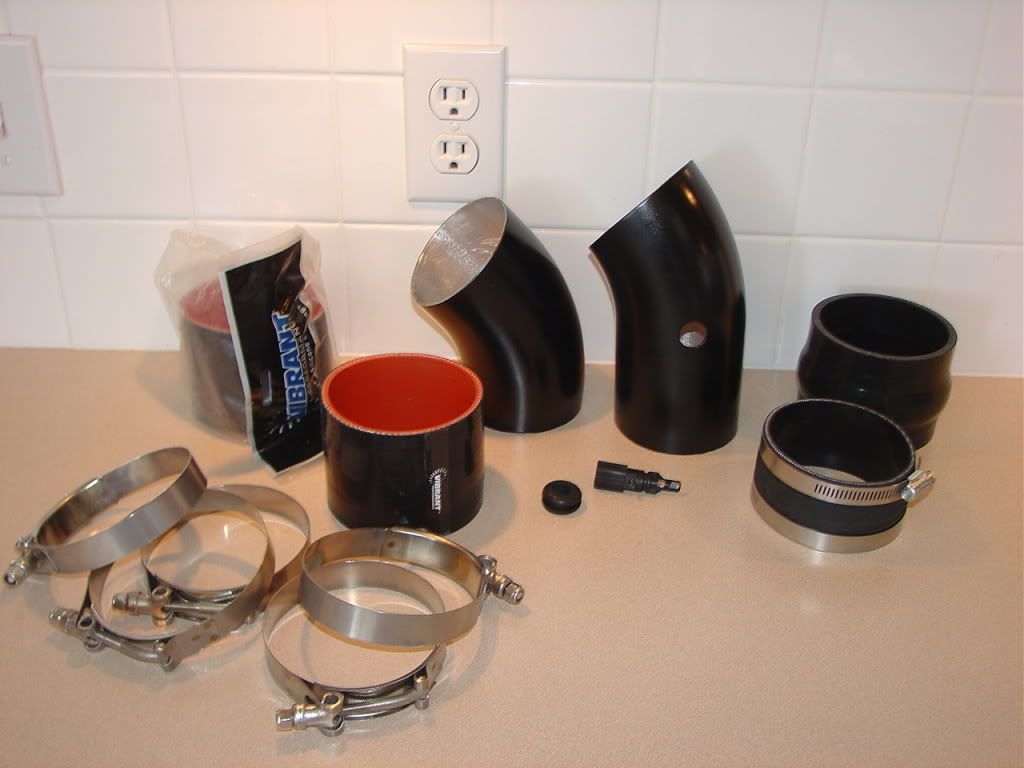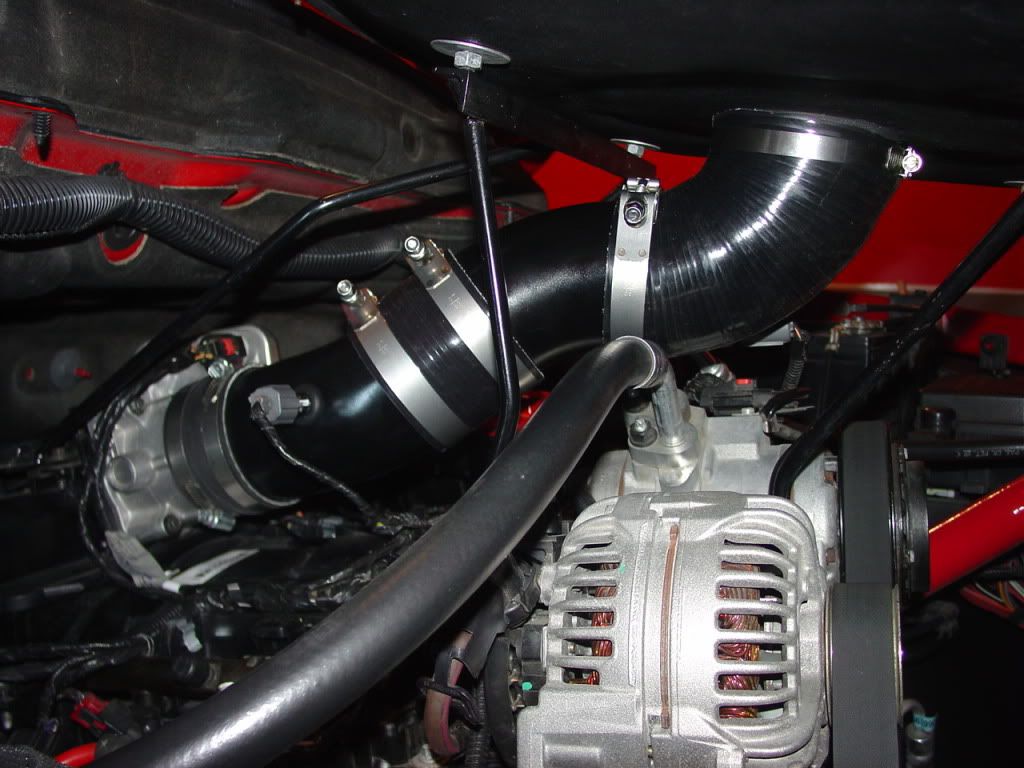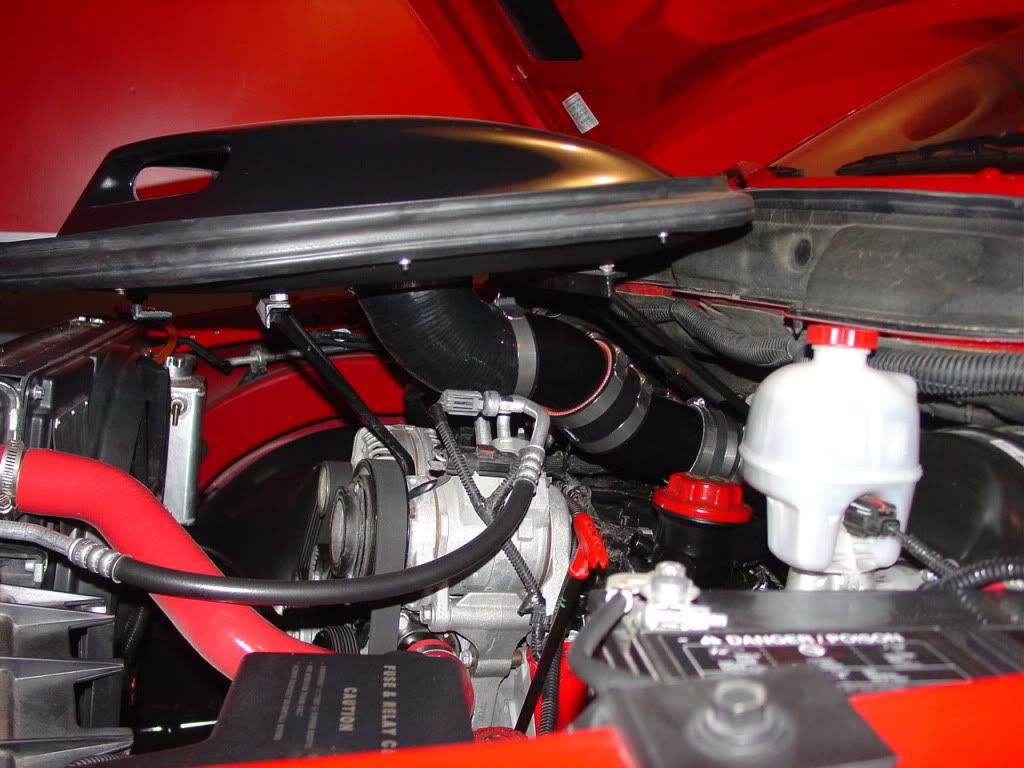 This is where I'm at now. Hey, would you look at that… it's a Hemi.
I don't know how many people read all that but a couple people might have noticed that took several months and I even did a head and cam swap in there at some point, oh yeah, and gears. I still need to find a filter for the vent tube. It will not be reattached to the intake.
I only have about 40 miles on the new setup but so far there is no noise (at least none over the exhaust). I was worried it would whistle. I haven't felt any change in power but then I never expected to.
Update, I was wrong. I can feel a difference. Also, I walked up to the truck at idle and put my hands near the intake holes. My intent was to try and block off the holes to see if I could feel any suction. Heck, I just got near the holes and I could tell air was being sucked in. Not so much as the holes were a restriction though.
What do you think? Did you notice anything I missed?