Discussion Starter
•
#1
•
Here is yet another how to on painting on a budget. This time it is the door spears on my Ram. I know thay many of you just take the spears off, but if you are like me, I wanted to keep them for the door ding protection.
Note that you should read through the fender flare how-to I did earlier because this how-to is very similar. I will just note the differences between that how-to and this one to save some typing:
http://www.dodgetalk.com/forums/showthread.php?t=172468
Not all the products listed in the fender flare how-to are needed and I just needed 1 can each of adhesion promoter, primer, mist paint, base coat and clear coat. I already had the adhesion promoter and it was plenty for both the fender flares and the spears. The Dupli-color primer woud be find if you wanted to prime the flares after the adhesion promoter.
OK, so the first thing I did was get some green auto painting tape at the local auto parts store and put about a 2" border around the flares. The flares are not flush against the metal because they mount with a foam type tape. I tried to tuck the tape as far down behind the flares as possible.
I then cleaned them with the same soap/alcohol/was&grease remover that I used in the fender how-to and starting wet-sanding the texture (the tape protects the existing paint on the truck). I used 320 grit paper until they were smooth. I have since learned that 180 grit can be used as well and will get you there faster - just go over it again with some 320 to smooth it out a bit. Here is how mine looked after sanding them.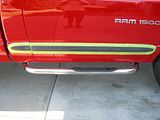 Now I was ready to start painting, so I taped paper all around the flares to prevent any over spray, cleaned the spears again with the soap/alcohol/wax&grease deal and sprayed two light coats of adhesion promoter on the spears. Again - more is NOT better with this stuff. I have also since found out that Dupli-color has an adhesion promoter and the price is less than Bulldog, so that should work for you as well:
Not a great picture, but here is how it looked after the paper and adhesion promoter (which is clear):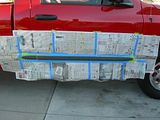 The next couple of steps are optional (especially if you sanded your spears perfectly smooth - which I did not). I had some auto primer and some black paint from a prior project, so I sprayed on a couple medium coats of primer and a "mist" coat of the black paint to use as a guide as I did in the fender flare how-to. Here is how it looked after the primer and black mist coat (It was my first attempt at "misting" so I put more on than I needed
):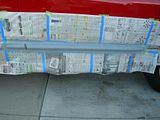 I then let the paint dry for about an hour and then I wet sanded the spears with 800 grit paper until most of the black mist coat was gone and it all felt smooth. Then I cleaned the spears with wax&grease, made sure it was dry, then applied the red base coat and clear coats in the same way I did them in the fender flare how-to. Here is how they looked:
I then let them dry for a day, then wet sanded them with 2000 and buffed them as in the fender flare how-to. Here are the results.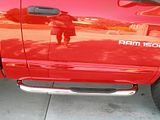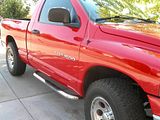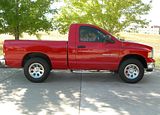 Again - I want to emphasize that the Flame Red (Poppy Red) matches my truck very well. Even so, and especially if you are using a different color, paint a test piece so see how well it will match. Do the full base coat, clear coat, wet sand and buff so you will know exactly how good the match is.
Cheers and happy painting.