I just installed an inexpensive (under $100) license plate mount wireless backup camera in a friend's 2006 Dodge Grande Caravan. It was an easy job completed in a pleasant hour or so.
The first picture shows the camera mounted on the license plate - the finished job - and the arrows indicate the four screws that must be removed to free the license plate light/rear door opener assembly.
Note that two of the screws are torx, so you may need a new screwdriver bit.
The second picture shows the assembly removed and hanging from its wires. There are 3 wires going to each of the two lights. Why 3? I used the two outer wires on the right hand light. You will need a meter to determine which is positive. I drilled a small hole beside the right hand light to pass the cable from the camera through to the inside of the assembly. The hole was very easy to drill and is not visible unless you kneel down and look up. If you don't want to drill, you can probably work the cable through the gap around the light. The cable was looped around and taped behind the license plate because the first foot of it is thicker and contains the wireless antenna so it must not be cut off.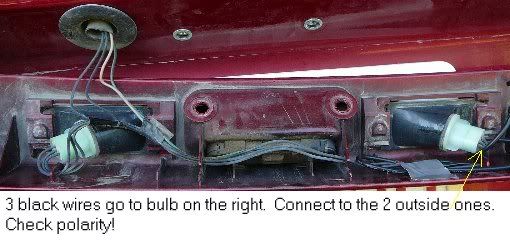 I used a small knife to cut some insulation off each wire (well separated so a short cannot occur even if the tape falls off). I soldered the camera power wires onto the light wires but could have used connectors that came with the camera. Heat shrink tubing would have been longer lasting but I didn't have any with me on this job, so just used electrical tape. That's it - just 2 wires to connect.
When mounting the camera use the wedges that come with iit to aim the camera slightly downward. The monitor is small and you don't want to waste any of it on sky. The monitor plugs into one of the accessory power jacks on the dash and it comes with a holder that can be mounted on the dash.
The camera clearly shows the blind spot immediately behind the van. It is difficult to judge distance in it, especially when backing up to a wall or pole, unless you have aimed to camera down so the bumper or some ornament on it is just visible. It is not very useful when backing out into traffic - the mirrors are better in most respects.