Discussion Starter
·
#1
·
Ok guys,

http://www.lowesmotorspeedway.com/dragway/fastfacts/ March 14th 2009 Zmax Dragway

They have gotten back to me with the only date available for complete track rental:

Saturday March 14, 2009

(rain date Sunday March 15, 2009)

They are NOT inexpensive, BUT, we will have one hell of a time in Charlotte.

BuilderBill's
Gen III Hemi Invitational!

Looking at Jeep SRT8's LX Hemi's, Challenger Hemi's....maybe 50-75 cars or so.

Different categories from stocker to 426 to all out anything goes, forget streetable!

I'll need $150 per vehicle.

This should be a blast!

I've contacted a couple of the guys on the LX site who put together GREAT events like the Shindig and the annual LX and Beyond race to help me out with the logistics.

A friggen ton of work, but, I'll even stay up by the speedway with you guys and tip a few.

Embassy Suites Charlotte/Concord Golf Resort and Spa

5400 John Q. Hammons Dr.

Concord, NC 28027

www.embassysuitesconcord.com

You may advise your attendees to begin making their reservations now. To book under your block and get the group rate of $119, guests will need the group code: PRT.

Guests may book their reservations by either:

-Calling the hotel direct @ 704 455 8200 and speaking to our reservations department.

-Calling 1 800 EMBASSY

-Going online to

www.embassysuitesconcord.com

and entering the Group/Convention Code: PRT.

Please alert your attendees that the cutoff for making reservations is: 2/13/09.

**Any requests after this date or after the block has been filled will be taken on a rate and availability basis.

?????

Bill
http://www.cherokeesrt8.com/forums/showthread.php?t=23452
Some pics of this track.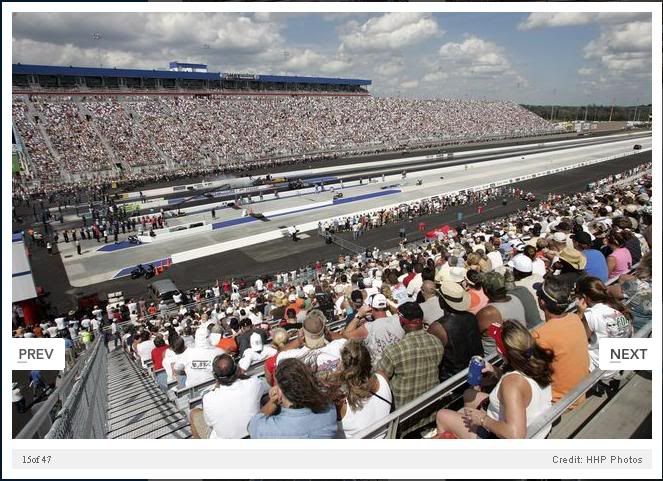 And a list of the attendee's. Some real big hitters here.
ATTENDANCE LIST:
1 Builderbill: Jeep Low compression 426 dog, BuilderBill Dana 44 front, NAG1, transfer case, 8.8 rear diff
2 BJB: Jeep (GDCARMA) 6.1 tuned like a fine piano! BJB is waiting the transplant from BDCARMA.
3 aplatero: Jeep 6.1(SOLD)----->Chrysler 300SRT8
4 Harrison: Jeep 6.1 headers, CAI(owes Ace a Reach Around), LOUDEST Hemi at this event.
5 navyavi469: 6.1 forged, single turbo, recent tune....wants the 10's! BuilderBill NAG1, transfer case.
6 Toothmonger: 426 Jeep BuilderBill NAG1, transfer case, 8.8 rear diff (ready for F/I)
7 lchevere: Jeep 440 wow....PPP built
8 FLsrt8: Jeep 426 TWIN rear Turbos, BuilderBill NAG1, transfer case wants the 10's!
9 erh237: Jeep 6.1 Catback, CAI
10 Madcharger Charger, heads/cam/stock headers/Corsa/PI converter/Nag one
11 Leegoober: Jeep 6.1, a ViperDan special.
12 FlyByU: LX 426 with a small shot, ok a medium shot....10 seconds...he's been there and done that!
13 Blown-WJ: Jeep 6.1 headers, catback, spray.
14
15 SpeedFactory: 426 Charger, supercharged, best time 10.3, looking for the 9's on the concrete track!, oh yeah, BuilderBill NAG1
16 CTS-VEO: 6.1 Jeep, 3.5" BWoody, B&G Stage II PCM with MHP CMR Tune, and B&B catback exhaust
17 UJokin2: 426 LX 300, serious power...out to beat big Al all day long.
18 Big Al: 426 LX Charger, serious power...out to beat UJokin2 all day long...LOL
19 USCG Charger: 392 powered, 1st protoype 8.8 rear with 3.23 gears. Ran 11's before the gears...lets see what happens.
20 Hemi31: Eric will be sporting his new ride...watch out, his last ride was one of the quickest LX's
21 Charger4Life: One of the quickest 5.7 LX's to date, if you are quicker 5.7 PROVE it! Let's see a 5.7 break into the 11's in Charlotte.
22 1FST4DR: LX, one quick ride!
23 RobAGD: 11 sec. LX, Rob WILL have his gears straighten out by then!
24 BlaKDeviL:300 SRT8, possibly his Charger SRT8 & Hennessey Viper & 408 ci Dakota...10 second beast!
25 3336 jmh: 6.1 Jeep, Heads cam and quick!
26 PPP: Andy's 426 LX....VERY low 11 second NA ALL Motor,
27
28
29 erosenthal: LX with spray, another PPP car!
30 gartner: 5.7 Magnum, heads and cam, PPP....a good match for Charger4Life??
31 jimsisland: 6.1 Charger, PPP,
32 robsrt8: 392 Magnum with spray, PPP
33 wew: Charger, 426 SUPERCHARGED, PPP
34 Black08: 6.1 Charger, magnaflo mids, JBA catback, AFE stage II
35
36
37
38
39
40
41
42
43
44
45
46
47
48
49
50