Discussion Starter
·
#1
·
I had a couple of guys asking me to start a build thread, so here goes:
My truck is a 1999 Ram 2500 QCSB 4x4 with a V-10/47RE
I bought it 2 years ago with 96K miles on it for 6000.00 It is an excellent runner.
So far I have:
Rebuilt the 47 RE with a Trans Go Shift kit (Full Firm Shifts)
Dacco High performance Torque Converter
K&N FIPK
Gutted Cats
Magnaflow Cat Back Exhaust
Chrome Hummer H2 takeoffs with 35" BFG A/T tires
Led tails
1 piece Projector headamps/ corners
I found this bed on Ebay: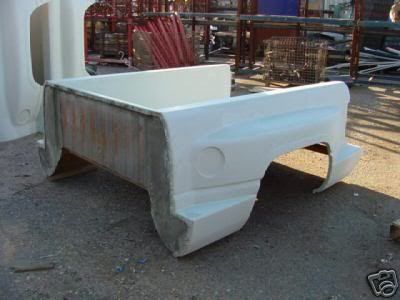 They were made back in 94-95, I remember seeing one at a local dealer painted up like a Little Red Express with stacks and all. I always thought I'd like to build a pre run style truck with the stepside bed, ala Walker Evans old Dodges back in the 80s. I bought mine from AIM (Justbagit dot com is one of there many websites) I understand they bought a new facility a few years ago, and these beds were left there, so they are selling them. When I got mine last March they had 7~8 left. It is designed to use a mid 90s Chevy stepside tailgate, but I will not be running a tailgate on mine.
I built a bender using the "Gottrikes" plans as a basic guide, I made quite a few changes however, including CNC control:
I got ide tracked building some other tools:
Bead Roller:
I also made a straight edge guide for my Plasma:
Other projects include Dimple dies (no pics yet)
I bought Bend-Tech software, and have designed my front bumper:
This is where I stand now, The bed is installed, along with a set of Glassworks flared front fenders. I Ordered a 1 3/4" die for my bender but it took 8 weeks to get, slowing me down, and now I'm pretty busy with other things, so I hope to get on the bumper this weekend.
After the front bumper is done, I am going to do a taper cut on the bottom of the bedsides
And fab up a rear bumper.
I think I want to do a tire mount/ shock cage like this:
I do intend to add a main rollbar hoop to the bed behind the cab also.
As for the suspension my current plan is a set of 3rd Gen Hemi front Coils, Carli rear add-a-packs, 2.5" Kings, Limit straps, and I am going to fab my own Control arms and track bar with ballistic joints. When funds allow I will add some King Air bumps as well.
The Driveline is going to consist of a 2002 Front 60 (Non Cad) with 35 spline axles, Ford Hubs (Lock outs), and a tru-trac with 4.88 gears. I am still looking for a 2002 Rear D-70 with Disc Brakes, 35 splines and a Detroit
As it seems my other rides have all of a sudden become black (not totally by choice, just how it ended up) I will be painting the truck black when I finish up the fab work.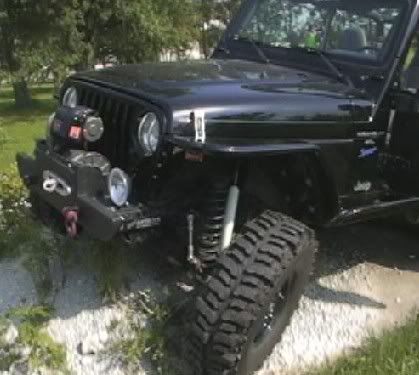 I will try to be regular with my updates. All comments and suggestions are welcomed.