Registered User
Join Date: Mar 2012
Posts: 35
Mentioned: 0 Post(s)
Tagged: 0 Thread(s)
Quoted: 0 Post(s)
(Thread Starter)
08-10 Dodge Nitro Gps Navigation Radio
---
08-10 DODGE NITRO GPS NAVIGATION RADIO
2008-2011 DODGE DAKOTA GPS NAVIGATION RADIO

Hello fellow forum members. I know how much many of you guys hate when you feel someone is on here just to "spam" their product. I hope you guys don't see it that way. Hopefully, our relationship isn't just a buyer - seller relationship. We are hoping that some of you forum members are actually interested in this and can share insight back and forth with us. We have established relationships with customers on other forums and have seen that many of you can actually help us out. For example, we have on Prius customer who has designed the whole UI. Furthermore since, most of us here are car enthusiasts I have learned that playing around with one of these can always lead to learning something knew. That is why we have a special offer price for ACTIVE forum members only (by active forum members, we mean users who have at posted a fair share of posts). Now what is it that we do?

To start off, we here at OTTONAVI, specialize in vehicle-specific OEM replacement radio. We are located in Ontario, CA USA. We pride ourselves in our excellent customer service and superior quality to many similar radios being sold in China or by other sellers. We encourage customers to call us rather than email. We all know how frustrating it is when you send a email...wait...and then receive something typed into Google translator a day after. Although our radios may not actually be OEM, they are OEM fitment and OEM look. You can hardly tell the difference. In addition, you have many more features than that of an OEM navigation. Some of these features are but not limited to: BT, DVD, CD, AUX, SD CARD, USB and much more!!! This unit will include everything you need to install the unit. There is no up-charge for maps or iPod cables or what not. You are also protected by are one year warranty.

The best part is this unit is DIRECT PLUG & PLAY. Meaning, if you don't have factory navigation or premium sound, this unit will fit in your dash without any modification. You will not need to cut any wires or adjust the brackets. This makes installation quite straightforward and becomes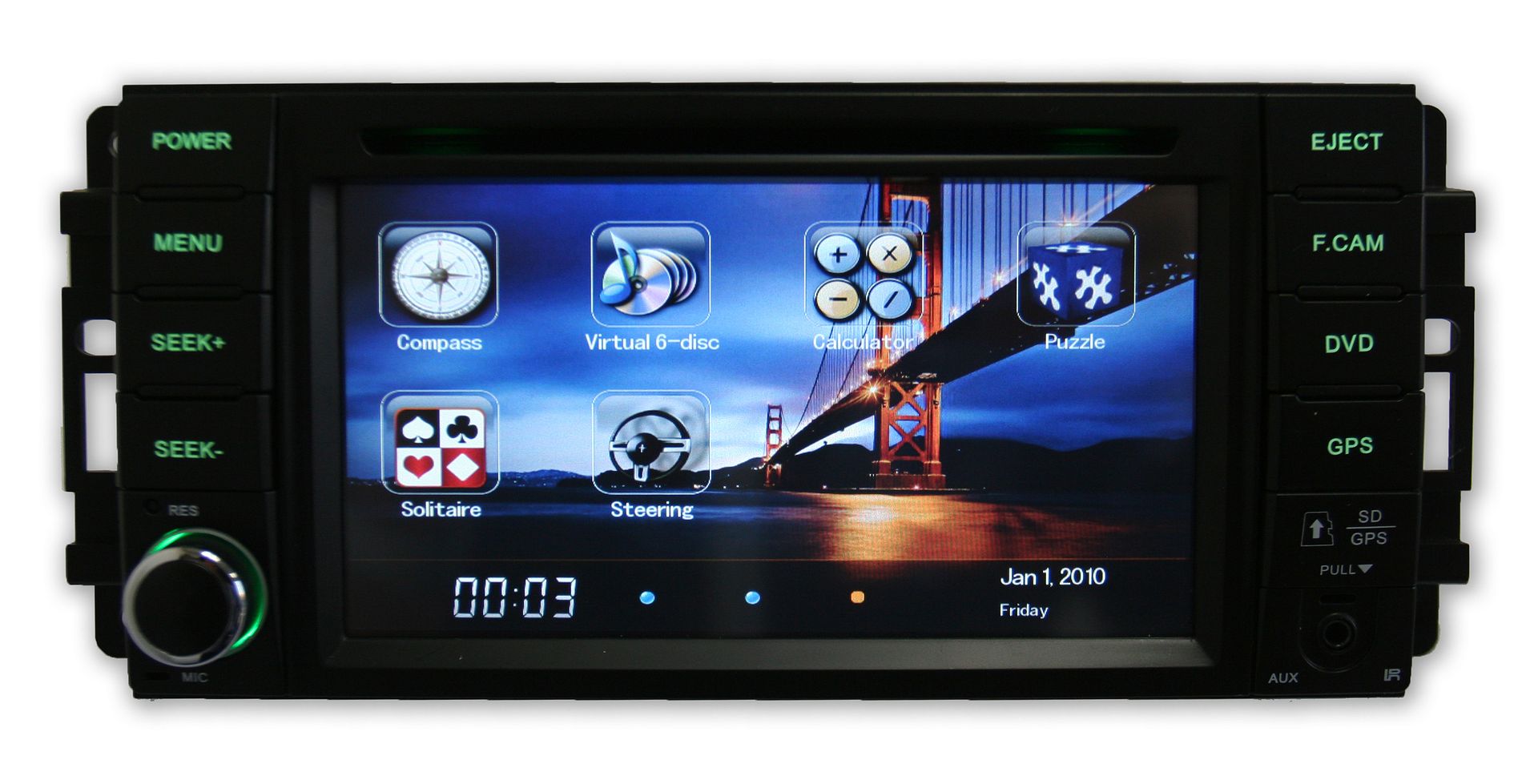 DIRECT PLUG & PLAY




Features
AM/FM radio
iPod capability (iPod cable included)
Bluetooth (A2DP)
DVD
TV (Digital converter box needed. Not included)
Steering wheel function: Yes
GPS navigation
Free North America map (USA/Canada)
File browser
Runs of Windows 6.0 CE
Direct plug and play
Make sure your car does not have premium sound
Specifications
Screen
Screen Size: 6 inch touch screen LCD
Touch screen function: Yes
Resolution: Digital 800 * 480
Contrast/color/saturation adjustable
Control panel night illumination function
DVD Compatible Format: MP4, DIVX, AVI, DVD, VCD, MP3, (CD), CD-RW, JPEG
Standard Double Din Mounting Size OEM Fitment
Bluetooth
Support bluetooth
Built-in microphone in the control pannel
Built-In USB port/SD Slot
TV system: PAL/NTSC
GPS
Operation system: Windows CE 6.0
Processor: SAMSUNG high performance processor S3C2440A-40. Max.
main frequency 400MHZ.
EMS Memory: 64MB SDRAM
Storage device: 128MB NAND FLASH. Support SD card.
Display output: CVBS+S-VIDEO output (Resolution:480*234) or simulation
RGB output.
GPS specification: Adopt SiRF Star III 20 channel and excessive high
sensitivity GPS receiving module REB-3310.
Orientation sensitivity reach -159dBm.
Orientation presicion£¼10M.
Orientation time of cold boot is 42s.
Orientation time of warm boot is 35s.
Orientation time of hot boot is 1s.
Power specification: Connect car power DC12V. Current<500mA.
Max power consumption: 4.5W(12V/360mA).
Normal power consumption: 3W(12V/250mA).
External GPS box
System
Working voltage: DC 11V¡«14V
Working current: MAX 10A
Standby current: £¼25 mA¡¡
Compatible Format: MP4/DIVX5.0/DVD/VCD/MP3/CD/CD-RW/JPEG
Radio
FM/AM frequency FM: 87.5MHz¡«108MHz; AM:522KHz¡«1620KHz
Tune method PLL frequency complex tune
Display method: TFT Graphical User Interface OSD
Storage quantity FM radio: 18 channels, AM radio: 12 channels
Search method: Automatic/Manual
Built-in radio tuner (30 Preset Stations)
FM (3*6)87.5-108MHz increment 0.05MHz
AM (2*6)522-1620KHz increment: 9 KHz
Built-In RDS radio receiver function
Video
Video output range: 1+10.2Vp-p (75)
Disc spec diameter: 12cm disc
Compatible disc: DVD/VCD/CD/MP3/WMA/JPEG/MPEG4
Video system Automatic PAL or NTSC
Two channel video output/one channel video input/AUX audio R/L input (RCA)
Support Back Sight Video Input
DVD OSD Language: English
Amplifier
Testing voltage: 13.8V
Maximum power output: 4 ¡Á 45W
Speaker impedance 8 ¦¸ (4-8 acceptable)
Built-in amplifier FR/FL/RR/RL 4-Channel audio output
Audio
Track imbalance degree ¡Ü 2dB
Segregative degree ¡Ý 45db
Frequency response: 20Hz¡«20KHz( ¡À 3dB)
Volume adjustment :
Low: 100HZ ¡À 7dB
Medium: 1KHZ ¡À 7dB
High: 10KHZ ¡À 7dB
Audio output: Stereo output of CD tone.
Audio/Subtitle language: English
Other
Steering wheel control function
---
OTTONAVI, USA
1710 East Cedar ST
Ontario CA 91761
(909) 673 -0098
danielalfaotto@gmail.com
customerservice@ottonavi.com
Currently Active Users Viewing This Thread: 1

(0 members and 1 guests)
Posting Rules

You may post new threads

You may post replies

You may not post attachments

You may not edit your posts

---

HTML code is Off

---